The sailing coach's best friend
The 6m electric coach boat has a very compact and narrow design, with the space on deck limited. So, we had to use a lot of tricks to minimize the space used by the battery and its support parts.
We are well satisfied with the result, where the solution is that the battery cover acts as a bench.
The performance of the boat is in many ways very much the same as if it was powered by a 70hp petrol outboard engine. Our aim was to get exactly this — a boat that performs like 'normal' and doesn't feel limited by the propulsion.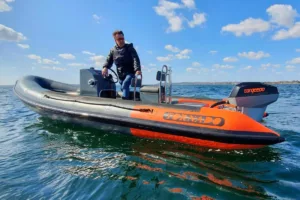 The Tornado 6m coach boat is a perfect fit. It has the maximum measurements allowed by the Olympic Committee and a reduced planing threshold, which increases the boat's medium speed and its stability of direction and makes it very controllable.
Technical specifications
| | |
| --- | --- |
| Length overall | 5950 mm (19ft) |
| Beam overall | 2290 mm (7,5ft) |
| Tube diameter | 520 mm (21inch) |
| Battery capacity | 1 x 40kWh lithium ion (BMW) |
| Payload | 650 kg (1430lb) / 8 persons |
| Engine | 1 x Torqeedo 50kW (80hp) electric outboard engine |
| Air chambers | 5 separate each fitted with overpressure valves |
| Internal length | 4350 mm (14,3ft) |
| Internal width | 1350 mm (4,4ft) |
Specifications of the Tornado 6m Electric Coach Boat
Interested In buying a Tornado?
Request a quote
Why the world's toughest RIB?
The durability of our boats is one of the most important things for us. Our RIBs are made of the best materials available and therefore can withstand a harsh working environment. For the hull we use a combination of polyester and vinyl ester to get the strongest and lightest boats. For the tubes we are using the best PU (Polyurethane) fabric available.
Our ribs
Explore the full range of our Tornado RIB models
All our boats are 100% customized.
We build the boats according to the customer's wishes.
We also want to build the perfect boat for you.
Find the perfect boat below.
related articles