An incredibly versatile and reliable boat
The 6.9m Multi Purpose RIB is one of the most versatile RIBs in use, making it suitable for rescuing, offshore work or police/military operations.
It is also a popular boat for leisure activities like diving and fishing, because of the practical design and the deck space.
The boat model is approved to carry up to 12 persons.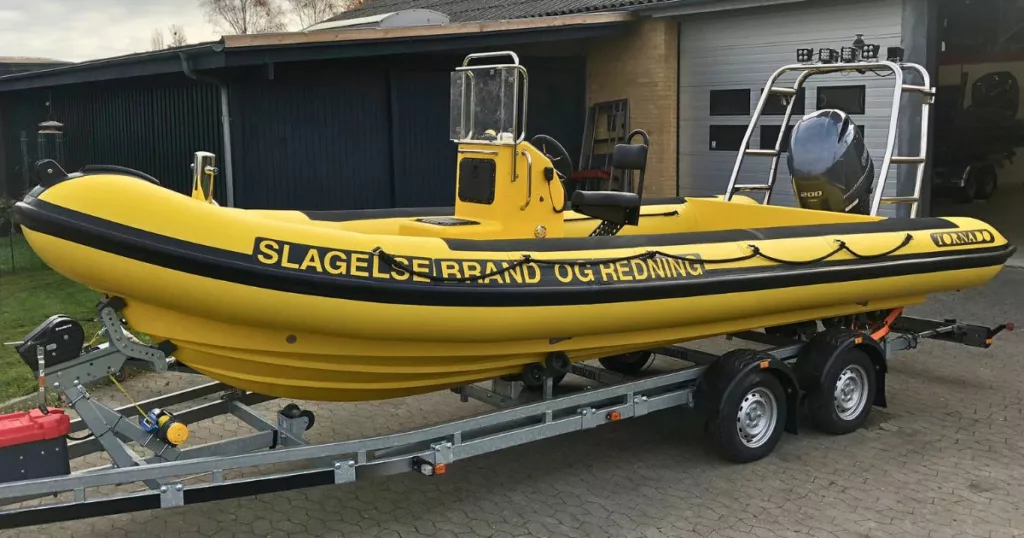 The 6.9m Multi Purpose Model is one of the most versatile Rigid Inflatable Boats in use by Dive Clubs and Commercial users.
TECHNICAL SPECIFICATIONS
| | |
| --- | --- |
| Length | 6800 mm |
| Beam | 2550 mm |
| Weight | 622 kg* |
| Tube diameter | 520 mm |
| Capacity | 1600 kg / 12 persons (Cat. C) |
| Max engine | 200 hp / 300 kg |
| Air chambers | 5 |
| Internal length | 5300 mm |
| Internal width | 1550 mm |
* This is our estimate for a standard boat without options, engine and fuel.
A 6.9m rib that can be customized in many different ways
When buying a Tornado, you as a customer have a lot of options to customize the boat according to your wishes.
After you have found the boat model that suits your desired purposes the best, you should consider the following configuration options:
The color of the hull 
You have unlimited options (all colors available)


Read more about the hull…

The color of the tube
You can choose between the following options:
– Orange
– Navy Grey
– Yellow
– Black
– Nato Green
– Blue
– Orange/Grey
– Grey/Orange


Read more about the tube…

Seating
Select type of seating and quantity. For example:
– Suspension seats
– Jockey seats
– Leaning frames
– Benches


Read more about the seating options…
The console
Select the type of console you want. For example:
– SHP Console
– SHD Console
– PHC E Console
– MPS Console
– MHC Console


Read more about the console options…

Accessories
Select accessories. For example:
– Navigation frame
– Lockers
– Treadmaster
– Boat cover
– Boarding Ladder
– Windscreen
– Mooring Post
– Bottle rack


Read more about accessories…
If there are any additional things that you would like to have installed in the boat, please let us know.
It is almost only the imagination that sets the limits.
Examples of how you can customize the Tornado 6.9m Multi Purpose RIB
Why the world's toughest rib?
The durability of our boats is one of the most important things for us. Our RIBs are made of the best materials available and therefore can withstand a harsh working environment. For the hull we use a combination of polyester and vinyl ester to get the strongest and lightest boats. For the tubes we are using the best PU (Polyurethane) fabric available.
Our ribs
EXPlore the full range of our Tornado RIB models
All our boats are 100% customized.
We build the boats according to the customer's wishes.
We also want to build the perfect boat for you.
Find the perfect boat below.